The Alameda Creek Regional Trail is a beautiful 12-mile trail that runs along the banks of the Alameda Creek, from the mouth of Niles Canyon in Fremont to the San Francisco Bay. With multiple route options and wildlife viewing possibilities, it is suitable for the whole family. Indeed, Alameda Creek Regional Trail is a popular destination for hikers, cyclists, runners, and nature enthusiasts, offering stunning views of the creek and surrounding hills, as well as a glimpse into the area's rich history. Moreover, this route is accessible year-round and the experience is enjoyable in all seasons. Also, dogs are welcome and can be let loose in some areas. 
A nature discovery hike in Alameda Creek​
Map of Alameda Creek Regional Trail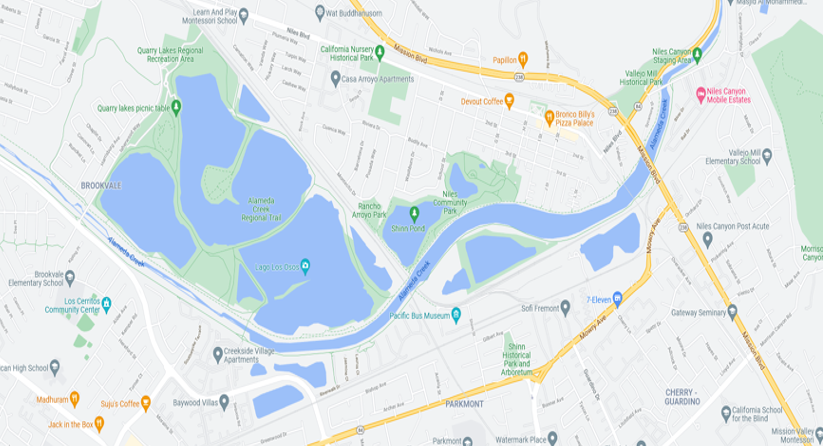 The trail is divided into two sections, with the western section stretching from Coyote Hills Regional Park to the San Francisco Bay, and the eastern section running from Coyote Hills to Niles Canyon. Both sections are well-maintained and offer a variety of terrain, from flat, paved sections to steep, rocky trails. You can access all the trail details and this hike in the duoveo app wich is free to download.
Start at Niles Community Park​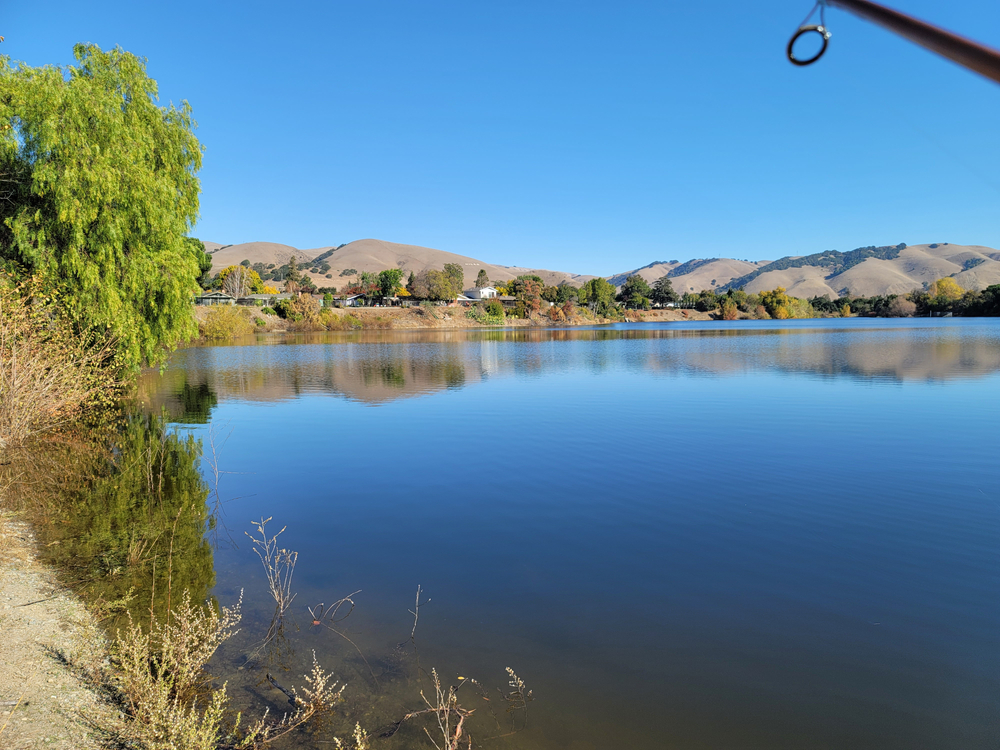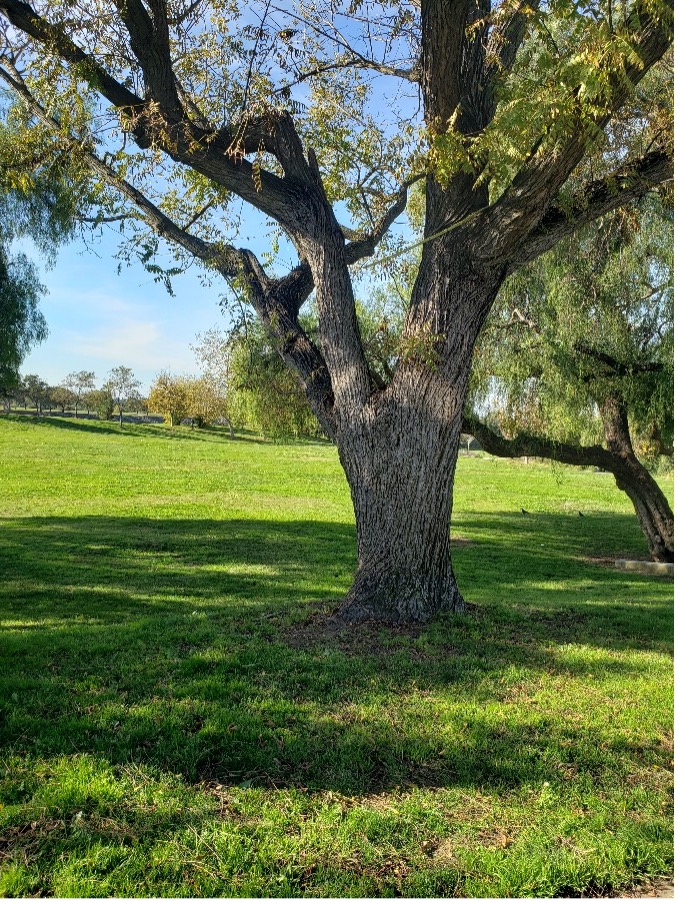 Alameda Creek Trail follows Alameda Creek for 12 miles from the mouth of Niles Canyon (Hwy 84 and Mission Blvd) to San Francisco Bay just North of the Dumbarton Bridge. The trail comprises a paved South side, and a gravel North side. Our adventure starts at Niles Community Park (3rd & H St. in Fremont's Niles district). Moreover,  we explore the more scenic gravel side of the creek trail. This side is between the creek and Quarry Lakes Regional Recreation Area down to Isherwood Drive and back to Niles Community Park. There are several areas to access the creek trail. Surely, Niles Community Park generally has adequate free parking. Also, it has some good nearby option for a post hike snack, drink, or meal in downtown Niles. To explore other route options or for more information click here. 
Head West toward the Quarry Lakes
From the start at Niles Community Park head West downstream toward the Quarry Lakes. Above all, these manmade lakes were formed by gravel mining, some of which was used in the construction of the transcontinental rail road line. Furthermore, Quarry Lakes Park is relatively new. Thus, it offers recreational fishing, swimming, and multiple trails. The lakes also benefit the local community by recharging ground water used by the Alameda County Water District. Then, as you continue down this Alameda Creek Regional trail you'll dip under the BART tracks and emerge near the first entrance to Quarry Lakes.
To the left is a newly constructed fish ladder build to help restore Steelhead and Salmon spawning runs in to Upper Alameda Creek. The fish ladder is expected to be fully operational next year.
Alameda Creek Regional Trail Bridge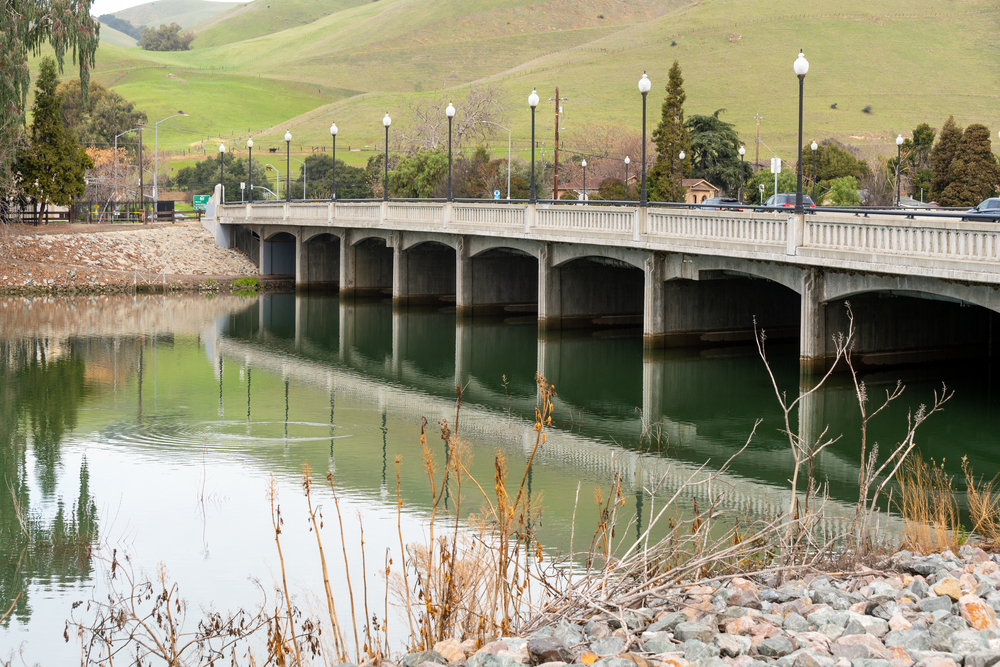 One of the highlights of the trail is the Alameda Creek Regional Trail Bridge, a 1,100-foot long bridge that spans the creek and offers breathtaking views of the surrounding landscape. The bridge is a popular spot for photographers and nature lovers alike, and is a great place to stop and take in the scenery.
Alameda Creek Regional Trail Wildlife
Bird watching on the west side
After, continuing West form its Alameda Creek Regional Trail, here you will have the best opportunity to view a variety of birds. Fortunately, there are several benches for a quick rest and waterfowl viewing. Then, as you approach Sequoia Bridge keep your eyes skyward for a chance to see a Falcon or Eagle perched in the trees to the right of the trail. So, the turnaround point at Isherwood staging area and restrooms are less than a mile away.
Alameda Creek Regional Trail: Back north on the lake side
At Isherwood staging area after a quick bathroom break and drink of water, turn around and proceed North on a parallel path through the gate on the lake side and enjoy the bucolic scenery on your return of this Alameda creek trail.
Isherwood accessibility: The Isherwood staging areas have a designated parking lot that is accessible to vans. Moreover, the trail has a paved surface and is generally at least four feet wide. Furthermore, it is estimated to be gentle, all 3% or less in grade. Thus, wherever the trail passes under a road. Therefore, there are steep grades that can be difficult for manual wheelchair users. Finally, there are accessible picnic tables in the bearded gathering area with a firm, stable path to the tables, firm, stable table surfaces, and knee clearance of 27 inches or more.
Open between 5am and 10pm unless otherwise posted or permitted.
Address: 2250 Isherwood Way, Fremont, CA 94536
Overall, the Alameda Creek Regional Trail is a must-visit destination for anyone who loves the outdoors, history, and nature. Whether you're looking for a peaceful hike through the hills or a scenic bike ride along the creek, this trail has something for everyone. So pack your bags, lace up your shoes, and get ready to explore one of the most beautiful and historic trails in the Bay Area!