Go on adventures. Share your favorite hikes. Have fun and win.
If you love hiking with friends and family as much as we do… we have a challenge for you!
Introducing #duoveoFALL. A challenge that is simple, fun and accessible, imagined to showcase the beauty of the fall season across the US.
This challenge is a unique opportunity for hikers of all over the States, regardless of their level, to capture and share their favorite hikes and tracks with the rest of the hiking community.
The rules are very simple with many prizes to win. Here is everything you need to know about the #duoveoFALL Challenge.
DuoveoFALL challenge 2023 edition is around the corner, the second edition will start soon, get ready !
We are proud to announce the second duoveoFALL challenge. It will start October 3th until November 12th.
Updated and simplified rules for the 2023 edition. Check it out and share it with your friends and communities, we are excited to see your new adventures. 
We are a young startup based in California. Our mission is to help our users find their journey to well-being. Our goal is to provide our online community the simplest tools to track their activity, share achievements with friends, and genuinely motivate others to reach their personal goals at their own pace. To do so, we uniquely combine the power of mobile technologies and beautiful connected accessories.
duoveo is a nonintrusive hiking app designed to inspire people to find, document, and share their journey to well-being. 
Using the app, downloadable for free on iOS and Android devices, users can discover new adventures in their area and even create their own.
How to enter the #duoveoFALL challenge
Entering the contest is as easy as sticking with your favorite habit: hiking.  
Download the duoveo app (on iOS or Android) & create an account
Document your favorite hikes by creating a new adventure in the duoveo app

Open the app before starting your hike
Go to "Adventure" section (not "Exercise")
Create & start your new adventure: must be at least 1-mile long + 2 pictures + one video + a 50-word description
When you completed your "Adventure" (hike), "Finish" & "Save" it
Modify at home later (At home, go to "Adventure"> "My Adventure" > "My creation", select your last hike & modify it)
When it is ready, "Publish to Public"

Share your duoveo adventure with a post on your Instagram feed

Use the sharing feature of the app "Adventure photo" or post your duoveo photos and description on Instagram like you usually do.
Make sure to use the #duoveoFALL and tag @duo.veo
Private accounts can take a screenshot of the post and DM it to @duo.veo
Minimum requirements for an adventure to be eligible:
Add 2 pictures
Add one video
The adventure must be at least 1-mile long
Write a 50-word description
The track must be open to everyone (public)
duoveo will select 50 winners to score one of the prizes described above.
PRO TIP: One adventure = one entry, creates many adventures as you wish to increase your winning chances! We also give bonus points for adding extra media (pictures, videos, audio files) to your duoveo adventures, using adventure's features (description, rules, icons, short description on photos & videos, sunny/shady), and generating in-app engagement. So don't hesitate to go above and beyond!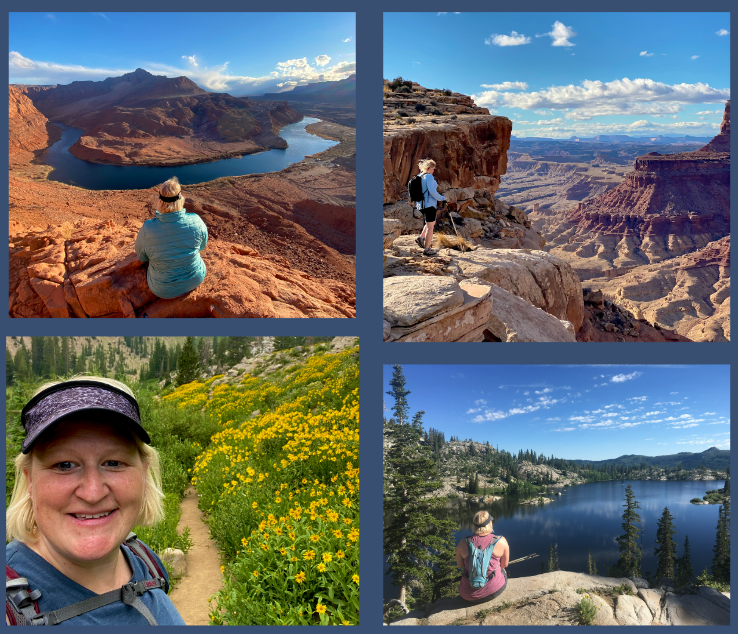 We hike with @explore.hike.teach
duoveo is very excited to work with Instagram content creator, outdoor adventurer and leave no trace advocate Miriam Gersdorf, aka @explore.hike.teach.
Miriam is a Utah-based hiker, outdoor adventurer, and content creator.  Explore.hike.teach cultivates a community of fellow outdoor and travel lovers. Followers join the explore.hike.teach community for the exciting one-of-a-kind content of unique hikes, trip itineraries, tips and education for exploring the outdoors, including how to find and select the best gear. As a passionate advocate for Leave No Trace Principles, the community knows how to recreate responsibly every time they explore. 
What is a duoveo GEMA Wellness Tracker ?
The duoveo Gema is designed to be non-intrusive in your day-to-day life. Wear it day and night, wherever you go, whatever you do. 
Tips from the duoveo team
Save your phone's battery
Here are a few tips to minimize your battery usage during your adventures:
use airplane mode as soon as you start your adventure
reduce your screen's luminosity
bring an external battery in case you need to recharge 
Take your pictures and videos with your favorite app, upload them afterwards
The magic of the duoveo app is that you can upload your media (pictures, videos and audio files) in your adventure afterwards. Just take your pictures or videos like you are used to and upload them once your hike is done. Thanks to the GPS data stored in your media, our app will be able to automatically place them.
However, note that only pictures, videos and audio files taken on your phone will include GPS data. Media taken on someone else's phone and shared via text or WhatsApp will NOT include the GPS data.  
Is the duoveo app free to use?
Yes, our app is free on iOS (7+) and Android (9+) devices. All you have to do is download it from your mobile store and create an account. Et voilà ! 
How many winners will you pick?
Our jury composed of Miriam Gersdorf, aka @explore.hike.teach and our team will pick a total of 50 winners that will be revealed on December 9th. Only one prize per participant.
What if my friends want to participate too?
They are more than welcome to participate! One adventure = one entry. So the more adventures you create, the more chances you'll have to win a prize! 
When does the challenge start and end?
The #duoveoFALL challenge starts on October 7th and ends on November 12th. 
We love and respect Mother Nature. That's why we follow the Seven Principles of Leave No Trace, an easily understood framework of minimum impact practices for anyone visiting the outdoors.
1. Who can play?
The "Promotion" is open to all the United States and Canada and to anyone older than 18 living in the United States. The "Promotion" excludes duoveo's employees from entering the challenge.
2. What is an adventure?
Duoveo defines an "adventure" as a hike or track open to the public that is documented with pictures, videos, and relevant descriptions in the duoveo app. Any app user can create his/her own adventure, and all adventures are accessible to all the app users.
3. How do I enter?
After you download the application (iOS 7+ or Android 9+ supported), you will have to register. During the registration phase, several personal questions will be asked. Some are mandatory, and some are optional. For us to be able to contact you in the future, we will use your e-mail address. We recommend logging in via our app, if you decide to use Google, Facebook or Apple, make sure you allow them to share your personal e-mail address with us. If not, it will be tough to contact you. Now you are ready to go, you will need to submit your content (aka "adventure") through the valid duoveo app account in the duoveo app and share it with the public.
Submissions must meet the requirements of the challenge to be eligible as below:
2 pictures uploaded minimum
1 video uploaded minimum
The documented hike or track must be at least 1-mile long
A 50-word minimum description of the hike is required
Share the adventure on Instagram using #duoveoFALL (make sure your account is public, if it is not please send us a DM with a screenshot of your post to validate your entry)
The track must be open to everyone (public)
On top of the minimum requirements described above, each entry will earn bonus points for any extra image and video added, for using descriptive icons, by indicating if the track is in full sun or sheltered by trees and by adding direction icons in the duoveo app, and any in-app engagement it will generate (likes).
Each adventure created by a participant will count as a unique entry with no limitation.
Further, we advise you to consult the judging criteria listed below. Also, please note no purchase will be necessary to enter.
Additional Submission Requirements:
By entering an adventure, you certify that pictures, videos and text are one's original content, and the content does not infringe on any 3rd party's rights. If 3rd parties (friends, family, strangers, or children) do appear in the videos or images shared in your adventures, we ask for you to receive permission to use their image.
No mail-in entries will be allowed, and any use of automatic programming to submit entries will be void. Finally, please ensure the adventure is appropriate and in line with duoveo's brand—use your best judgment!
4. What happens to my submission?
Generally, duoveo will receive a standard copyright license from you when you submit your content in the Promotion (see below for more details on this license). By submitting images or videos, you consent to duoveo editing, re-using, storing, reproducing, and modifying your content through our medium for both commercial and non-commercial purposes. If you win the Promotion, duoveo can use your name and photograph for future marketing purposes. Finally, additional compensation is not expected, and duoveo will not be responsible for 3rd party's use of your content. duoveo won't sell any of your content or information to 3rd parties.
Please know we will keep all of your private and personal information in accordance with duoveo's privacy policy at https://duoveo.com/privacy-policy/
Copyright License: You hereby grant to duoveo a worldwide, non-exclusive, perpetual, irrevocable, transferable, fully paid-up, royalty-free right and license, with the right to sublicense for this competition and marketing materials. Basically, duoveo will receive a license to use your images and videos as we please when you submit them through the Promotion. Again, duoveo will act in good faith with our privacy policy regarding your personal information.
5. How does duoveo pick the winner?
We will rely on a panel of judges consisted of Miriam Gersdorf and duoveo's team. This panel will pick each winner based on the particular criteria applicable for the Promotion emphasizing on the quality of the content produced. Luck will play no role in duoveo's decision.
Be aware the judges will not be required to provide feedback on each adventure and reserve the right to disqualify any content which is improper, unlawful, or breaks any rules of the competition. A participant can win only one prize.
6. How will I find out if I win?
Duoveo will send the good news by email or direct message on Instagram. We promise to do our best to locate and communicate with you if you are the winner. If we cannot confirm your identity within three months or any other disputes arise, we will contact the next best entry.
Winner List: For a list of the prize winners, which will be available seven (20) days after the winner's announcement, go to duoveo.com.
7. What do I receive if I meet the judge's lofty standards?
The prizes to be awarded from the Promotion are as set forth in the "Prizes" listed on the challenge page on Duoveo.com around this Promotion. Keep in mind the winners will be solely responsible for any and all applicable taxes for the prizes. Further, no substitution of prizes is permitted except if a prize is unavailable, and the winner is solely responsible for any incidental expenses.
If travel is included as a prize, and unless expressly stated in Duoveo's messaging around the Promotion, winners are responsible for all other costs and expenses associated with the prizes.
If you refuse these terms, you may forfeit all or any portion of the prize package at Duoveo's discretion, and the next highest score can receive the prize instead.
Please allow sixty (60) days for delivery of prizes except for the "GEMA Wellness Tracker" that will be delivered in Q1 2023 (based on production schedule).
8. Other Rules Related to the Promotion:
Assumption of Risk: BY PARTICIPATING, YOU ACKNOWLEDGE THAT YOU ARE PARTICIPATING AT YOUR OWN RISK AND THAT NEITHER DUOVEO NOR ANY SPONSOR IS RESPONSIBLE FOR ANY PHYSICAL HARM OR DEATH THAT MAY BEFALL YOU AS A RESULT OF PARTICIPATION IN THIS PROMOTION. YOU SHOULD NOT EXPOSE YOURSELF OR OTHERS TO ANY DANGEROUS, HARMFUL, OR ILLEGAL BEHAVIOR OR ACTIVITY AT ANY TIME DURING THIS PROMOTION. PARTICIPANTS AGREE TO ABIDE BY ALL APPLICABLE LAWS.
Copy of Rules: For a copy of these Official Rules, send a legal-size, self-addressed, stamped envelope to Promotion Rules, Duoveo, 30 Roxbury ln San Mateo CA 94402 before the end of the Promotion Period.
Binding Rules: By entering the Promotion, you agree to be bound by these Official Rules.
Modification to Rules: Duoveo may alter the rules of the Promotion but only in extraneous and outstanding circumstances.
Duoveo's Address: 30 Roxbury ln San Mateo 94402 CA
Good Luck!