Pebble Beach is the northern beach in Bean Hollow State Beach in San Mateo County. This is a small cove with a pebbly coarse beach sand. Surely, it is one of the lesser known beaches close to Pescadero and a nice California backpacking.
Indeed, with this nice easy shoreline walk, you can watch the pacific safely from above. Besides it is a perfect outing if your intention is to spend some time later in the shops and restaurants of Pescadero. 
We captured the pictures and map with our DuoVeo app. 
Pebble beach at Bean Hollow State Beach on the map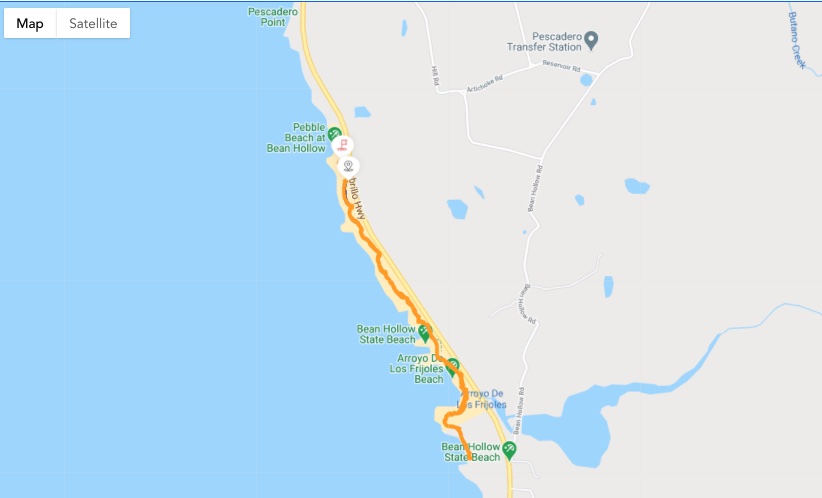 Altitude graph of Pebble Beach at Bean Hollow State Beach
There are several parking lots along the shore, the closest is the one your map application pinpoints as "pebble beach at bean hollow sate beach". 
From there, the trail starts at the end of the parking lot and is straight toward bean hollow beach.
Here, this California backpacking goes along the shore, just 50 feet from the shore. Also, it is safely above the sea, with coastal vegetation.
The Bean Hollow Beach walk is easy with little elevation. Then, there are a few stairs along the sandy path.
Of course, each bridge is an occasion to have an overlook at the tide pools and the rocky shore.
This stroll is the occasion to meet some of the sea share fauna: birds and seals. As well, in many places in California, there is a bird rock and there is a seal rock.
Even with no fauna in sight, you can still relish the impressive profiles of devastated rocks, experience the various bridges and enjoy the flora. Besides, the hottentot-fig is everywhere, and while it is not a native Californian species, it is still beautiful when in full bloom.
At Bean Hollow State Beach
The official trails ends at Bean Hollow State Beach. Further, this is a large U-shaped sand beach that offer ample space to run and play, if you feel so. And, if you came with a four legged friend, it is the opportunity to exercise these legs. 
After, if you continue over the rocks at the end of Bean Hollow State Beach, you will arrive to a smaller, secluded beach.
In fact, not many people dare go that way, so if you are looking for privacy and some alone time face to the sea, this is it.
Likewise, it is a rocky beach that shows some sand when the tide is low.
Finally, from there, you can take your time to get back to pebble beach, and rediscover the fauna, flora, bridges, shore and beach on the way back. Moreover, there is surely something that you missed! 
Location : bean hollow state beach – 12357 CA-1, Pescadero, CA 94060, USA