Watermelon mint juice with lime is a naturally sweetened drink with no added sugar. It's a delicious and refreshing juice for this hot summer that is so easy to make. Indeed, it is also a perfect refresher and heat reducer. Moreover, its 90% water content promotes a high level of hydration. Discover how to prepare it easily with a juicer or blender.
Summer juice key ingredient
You will need the following ingredients for this watermelon mint juice with lime :
5-6 cups cubed seedless watermelon: When you choose your watermelon look for a fresh seedless watermelon. One that is symmetrical, heavy and form with no spots or bruises. It will form the basis of the juice. The larger the watermelon, the sweeter and riper it will be. Watermelon season in North America typically lasts from June to October.
Handful of mint leaves: The fresh mint immediately adds many amazing flavors and balances the natural sweetness of the watermelon.
Juice of 2 limes: Fresh lime also balances the sweetness of the fruit. It helps to add brightness to the juice.
Watermelon mint juice with lime instructions
Place everything in a blender and blend until smooth.
Strain juice over fine mesh sieve and large bowl. Press through until just juice is in the bowl and the watermelon pulp remains in the mesh.
Pour into glasses and the watermelon juice is ready.
Optional: You can pour the rest in jars and store in the refrigerator for up to five days.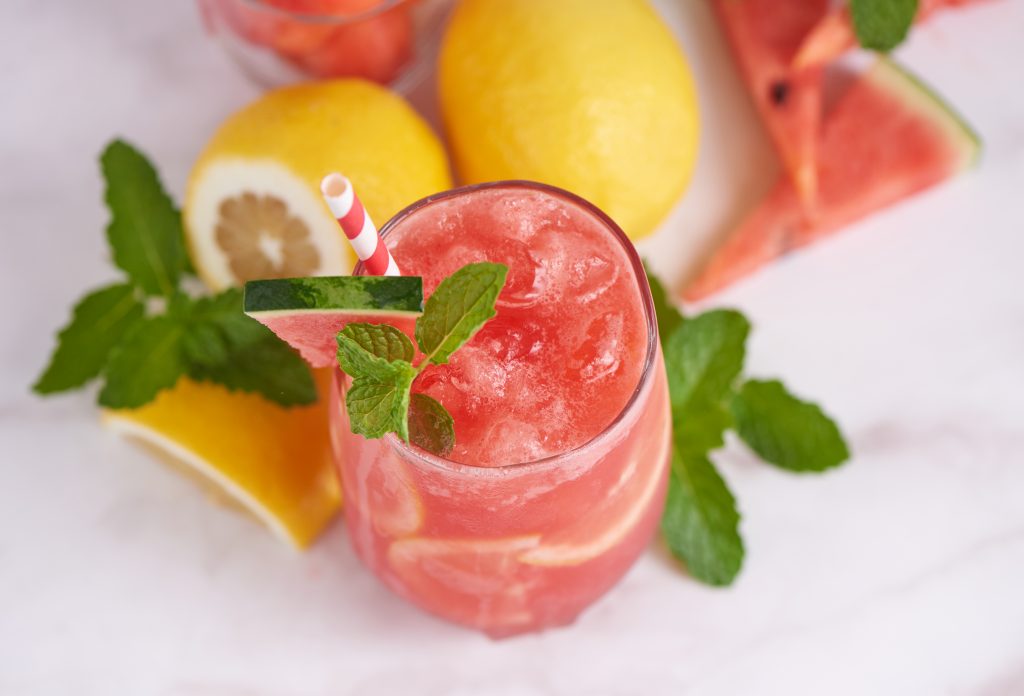 Step 1: First, put your watermelon in the refrigerator.
Step 2: Cut the watermelon into small pieces and scoop out the melon balls with a melon baller. You can use them for decoration later.
Step 3: Next, pick up some fresh limes. (We will use the limes to make a juice but also to decorate the glass.) So, use a sharp knife and cut the lime slices. Also, make the slit in the slices so you can fix it on the rim of the glass.
Step 4: Then, Stack the fresh mint leaves, roll them up and cut them into thin strips.  Use whole mint leaves for a milder flavor, or finely chopped mint for a stronger flavor.
Step 5: Add the chilled watermelon chunks, the fresh lime juice, the mint leaves and a pinch of salt. This will give the juice an incredible taste and make it even more hydrating.
Step 6: Blend everything on high speed for a few minutes until the mixture is liquefied. This should only take 15-30 seconds in a good blender. Pour the juice through a fine mesh strainer into a large bowl to remove all the watermelon pulp.
Step 7: Pour into glasses.
Final step: Decoration. Add the lime slices on the glasses. Then, add the mint leaves and melon balls, followed by a few ice cubes.
Your Watermelon mint drink with lime is ready!
Watermelon Nutrition Facts
According to the USDA, one cup of diced watermelon (150g) contains 45 calories, 0.91g of protein, 11.3g of carbohydrates, and 0.22g of fat. Furthermore, watermelon is rich in lycopene and vitamins A and C. This healthy fruit is low in fat.
Calories: 45
Protein: 0.91g
Carbohydrates: 11.3g
Fat: 0.22g
Sodium: 1.5mg
Fiber: 0.6g
Sugars: 9.4g
Calcium: 10,5mg
Vitamin C: 12.1mg
Vitamin A: 42mcg
Lycopene: 6795mcg
Watermelon juice benefits
Watermelon is over 90% percent water and very low in calories. Moreover, It is a good source of vitamins, minerals and antioxidants. So, watermelon juice is quite nutrient dense. 
Watermelon juice benefits : 
good for 

heart health

maintain blood pressure

help with digestion

lower inflammation
Therefore, it is a heart healthy and delicious way of hydrating especially during the hot summer season!
You should keep your watermelon at room temperature and out of the heat. Heat can dry the flesh, so if it's outside and hot, put it in a cool place like a cellar or the fridge.