Point Lobos State Natural Reserve is often called "the crown jewel of the State Park System". This California hike is outstanding for its many activities: sightseeing, photography, painting, nature study, picnicking, SCUBA diving, and jogging. Besides, it features endangered archeological sites, unique geological formations, and incredibly rich flora and fauna of both land and sea. Thus, it really is a MUST-SEE located along the West Coast popular Highway 1.
Point Lobos contains headlands, coves, and rolling meadows, along with the offshore area forms one of the richest underwater habitats in the world popular with divers. Wildlife includes seals, sea lions, sea otters, and migrating gray whales (from December to May). Thousands of seabirds make the Reserve their home. Hiking trails follow the shoreline and lead to hidden coves.
The area used to be the home of a turn-of-the-century whaling and abalone industry. A small cabin built by Chinese fishermen still remains at Whalers Cove and is now a cultural history museum.
We captured the pictures and maps with our DuoVeo app.
Point Lobos Hike on the Map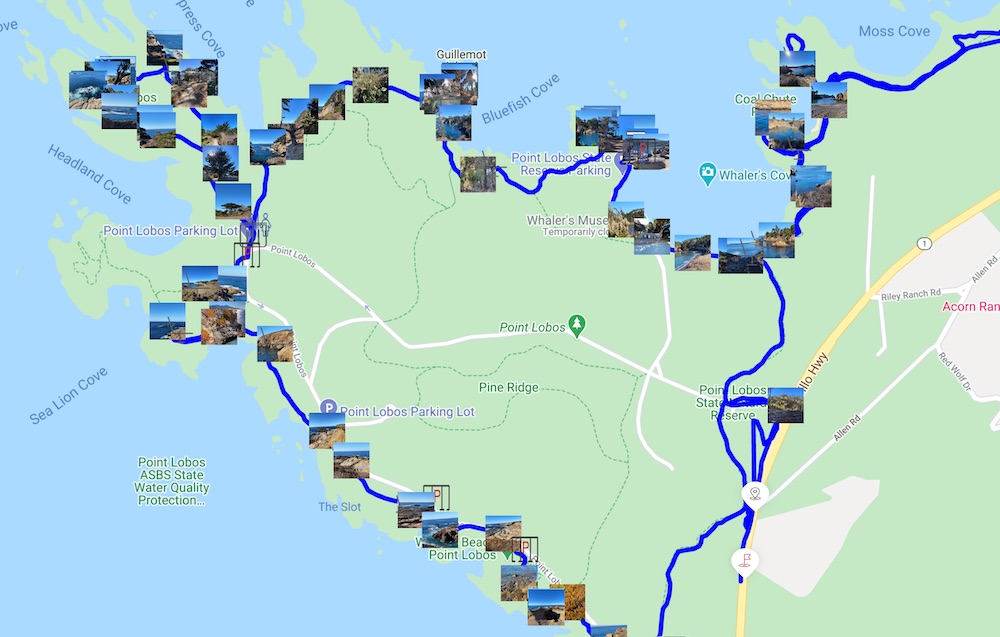 Altitude graph of Point Lobos Hike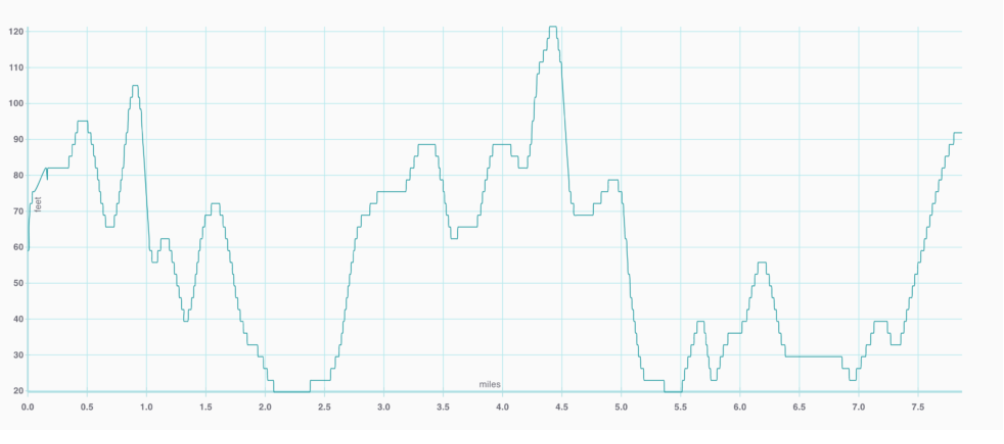 Gibson Beach and Bird Island
Gibson beach is very secluded due to the difficulty of accessing the beach. It is a quarter-mile walk and a downhill climbing on the steep stairs from the south plateau parking lot.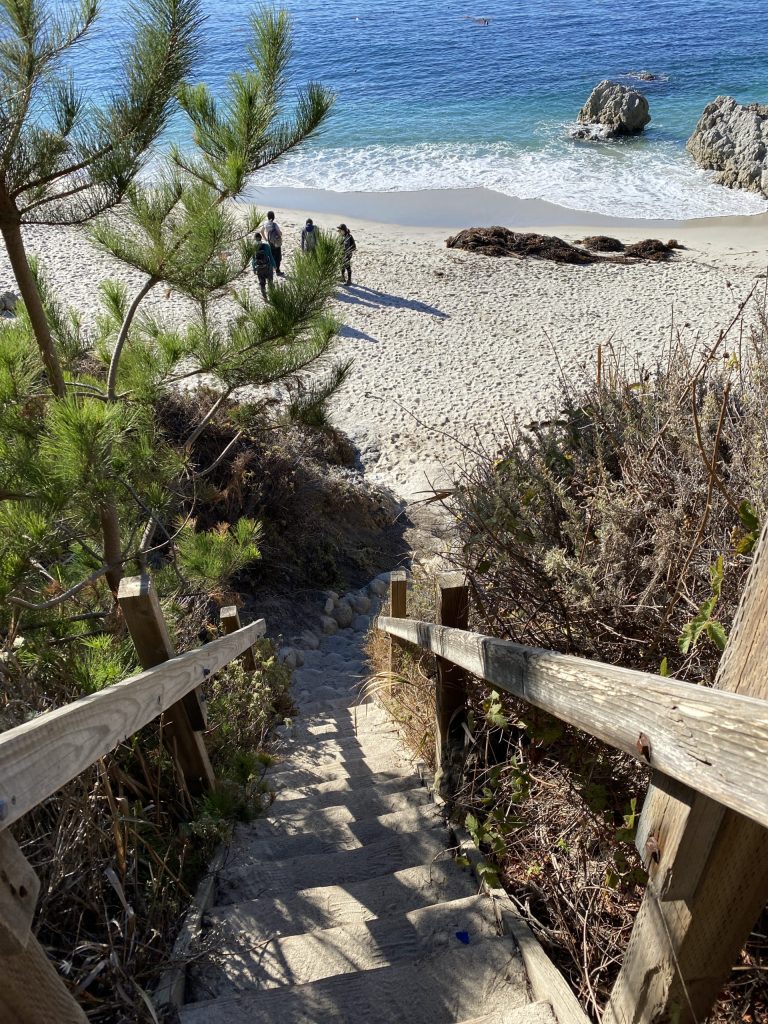 Bird Island is just offshore. So, you can best view it from Pelican Point via a short trail just south of China Cove.
To get here, go to the very end of the park road. Then, walk out on the Bird Island Trail which has steps that lead down to the beach.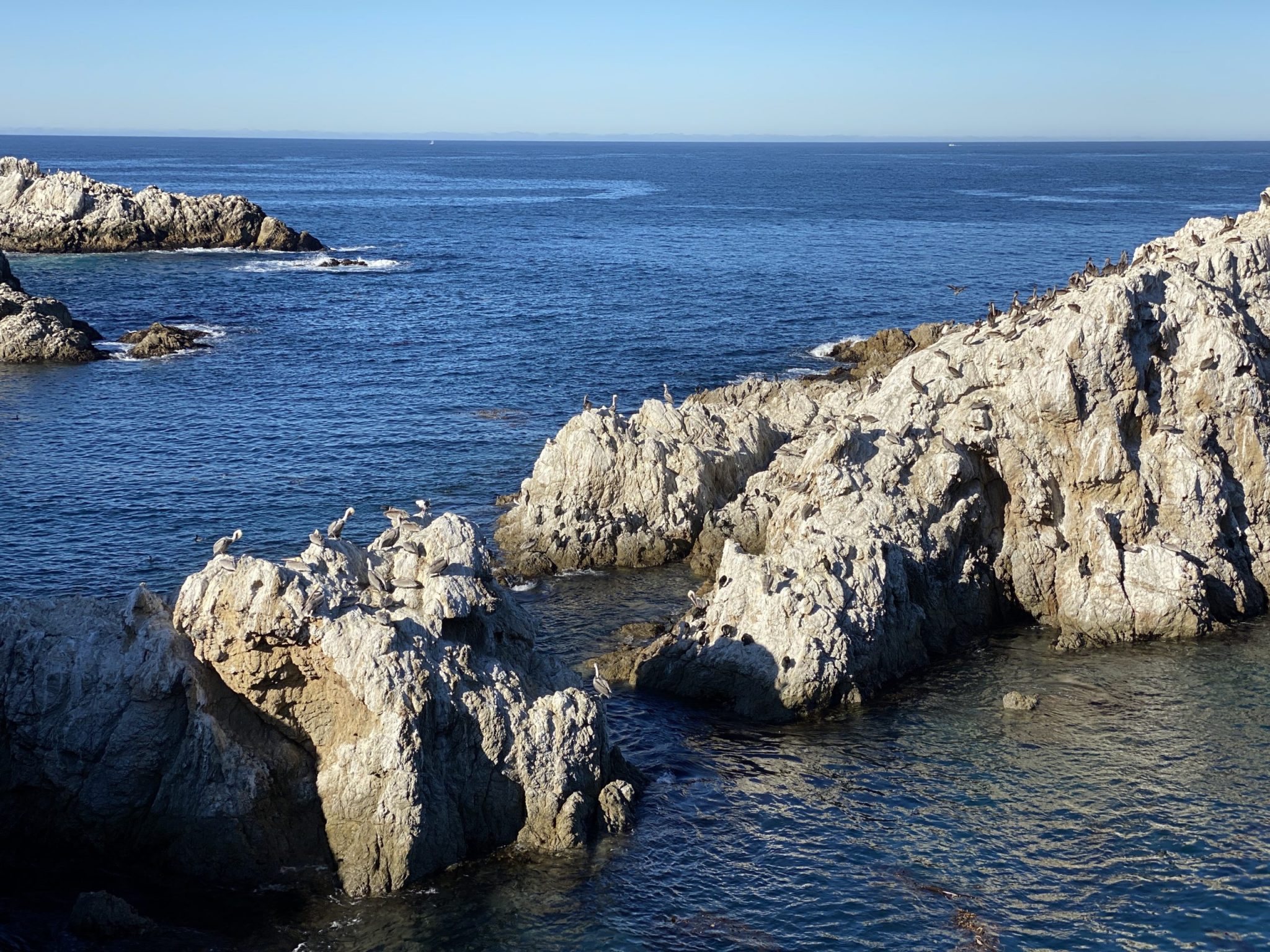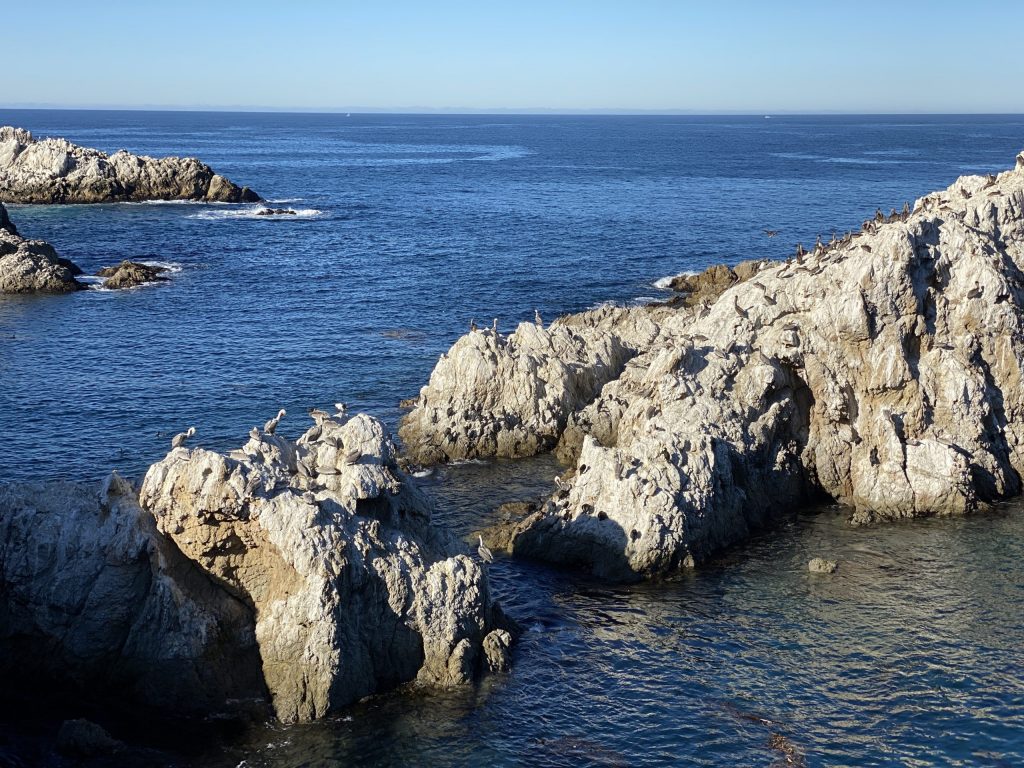 Emerald sea at China Cove
China Cove is an emerald green cove with a tiny pocket beach and is a must-see of this California hike at Point Lobos. It's a narrow deep sandy beach surrounded by rock walls. At low tide, you can find a small cave and a rock arch in the south wall.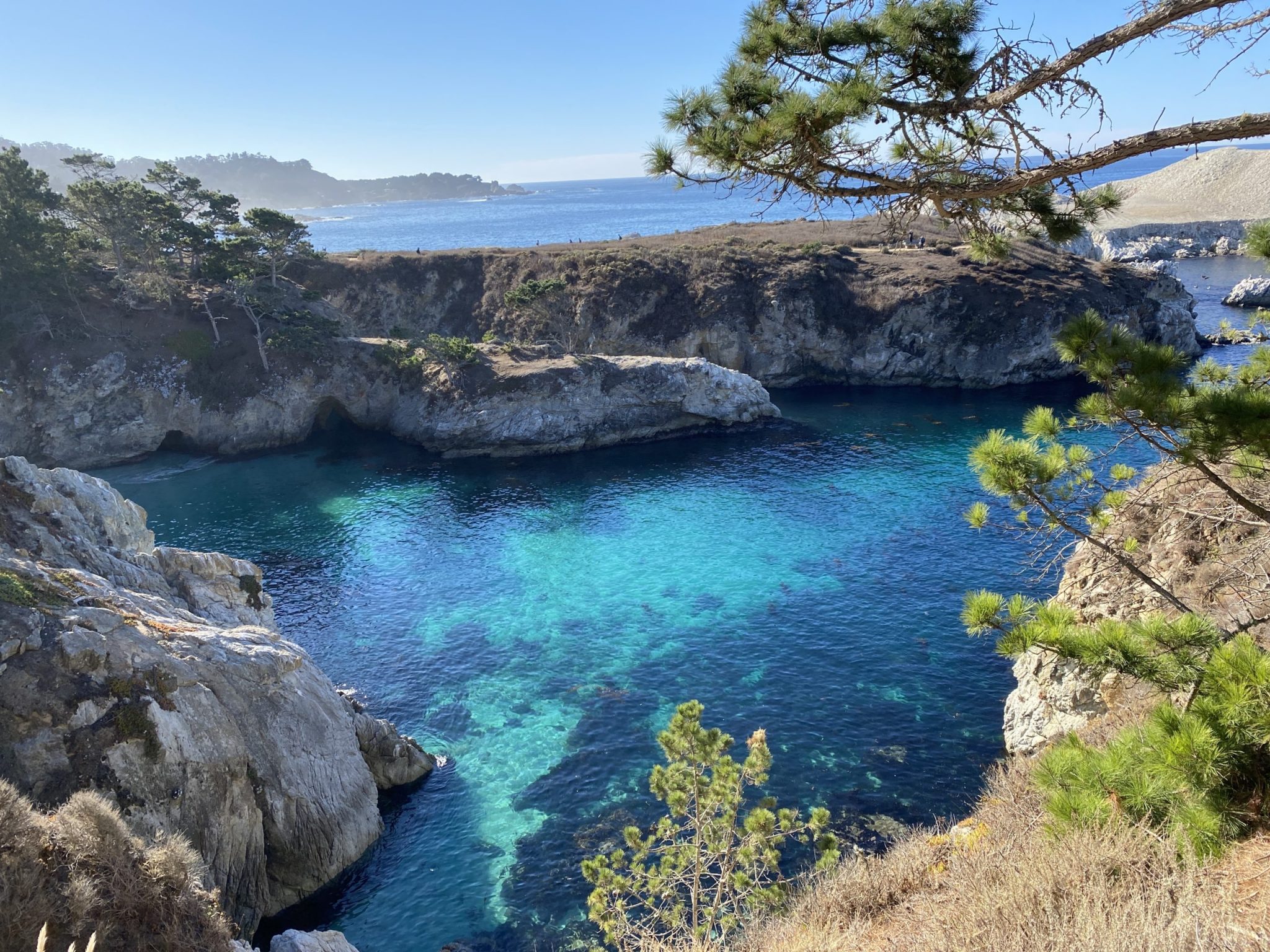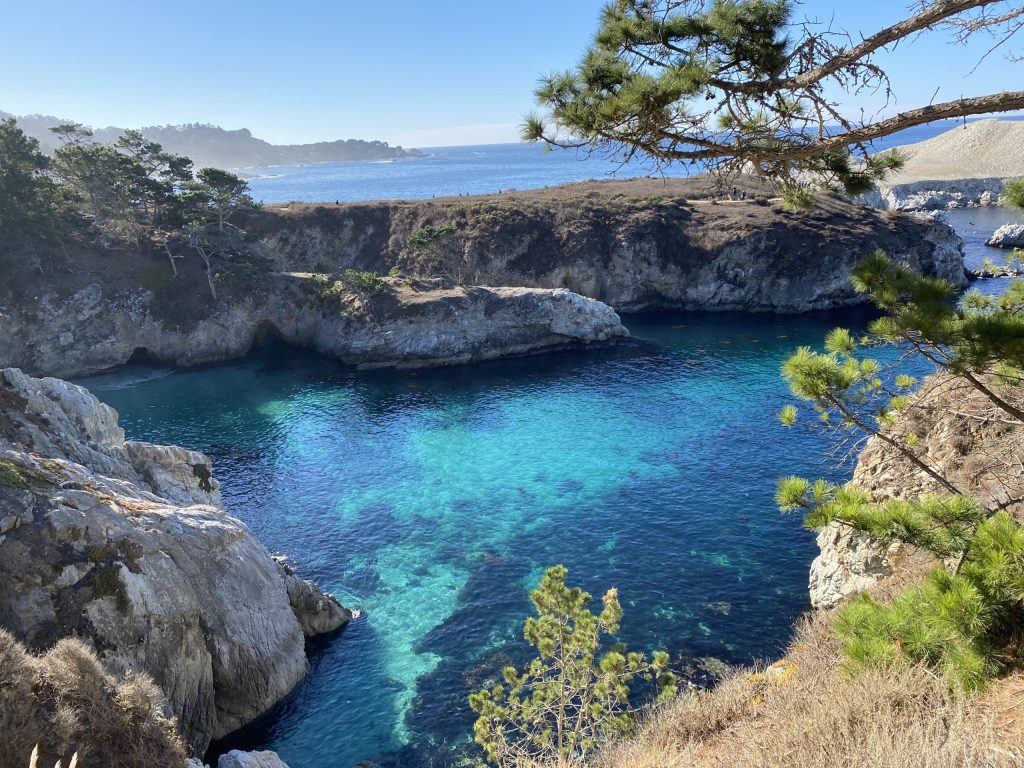 Sea Lion Trail of Point Lobos
Point Lobos derives its name from the offshore rocks at Punta de Los Lobos Marinos, Point of the SeaWolves. From there, the sound of the sea lions carries inland.
The Sea Lion Trail of this California hike includes cove overlooks and offers the best view of sea lion rocks offshore. It is a 0.6 mile round trip from the Sea Lion Point parking area. The upper part of the trail connects with the Sand Hill Trail to make a loop around Sand Hill that is fully accessible. Lower portions of this trail are not accessible.
This trail forms, along with a section of the Sand Hill Trail, a fully accessible loop of stunning ocean views. First, it begins under the cypress trees on the west side of the Sea Lion Point parking lot. Then, go right at the fork and head directly toward the ocean. Next, this takes you through one of nature's seaside gardens to a magnificent ocean view. On the way, ground squirrels scurry and sparrows perch on bushes to sing.
After this, on the right in Headland Cove, look for sea otters in the kelp and for harbor seals that sometimes bask on the low rocks across the cove at the water's edge. In Sea Lion Cove, look again for hauled-out harbor seals just below you. Indeed, this spot is often staffed by a docent with a spotting scope who is eager to show you close-up views of the animals.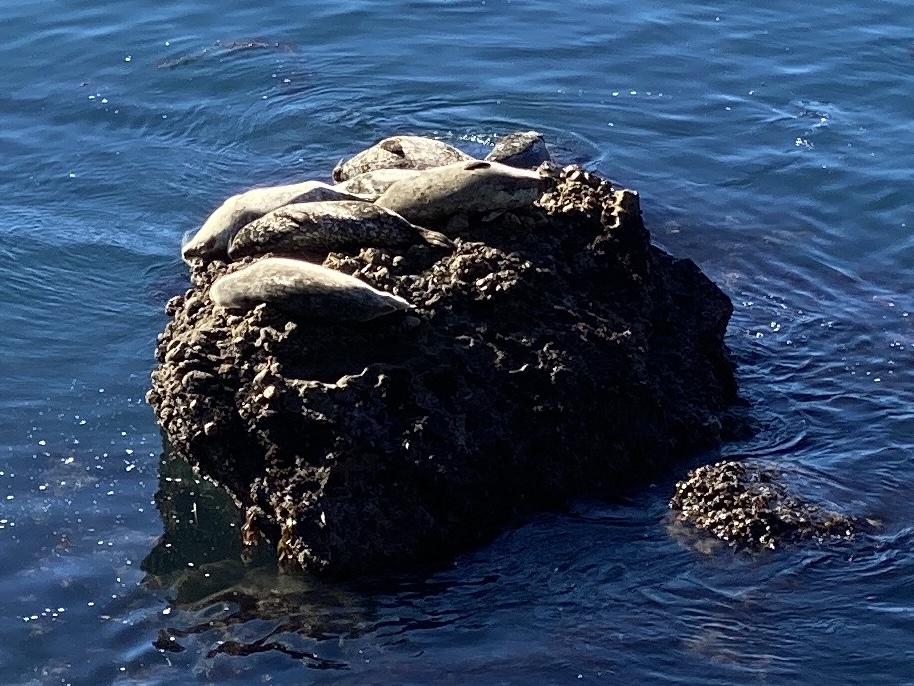 Cypress Grove Trail
Cypress Grove Trail is one of the most popular hikes at Point Lobos and for good reason! This short, clifftop loop takes you through dense cypress groves like the Allan Memorial Grove and also near several coves with gorgeous coastal views. Moreover, the California hike trail is a relatively flat, leisurely stroll under the thick canopy of Monterey Cypress. Definitely, Point Lobos is one of only two places in the entire world where you can find native Monterey Cypress (the other being Pebble Beach, CA), as they prefer moist areas constantly surrounded by fog.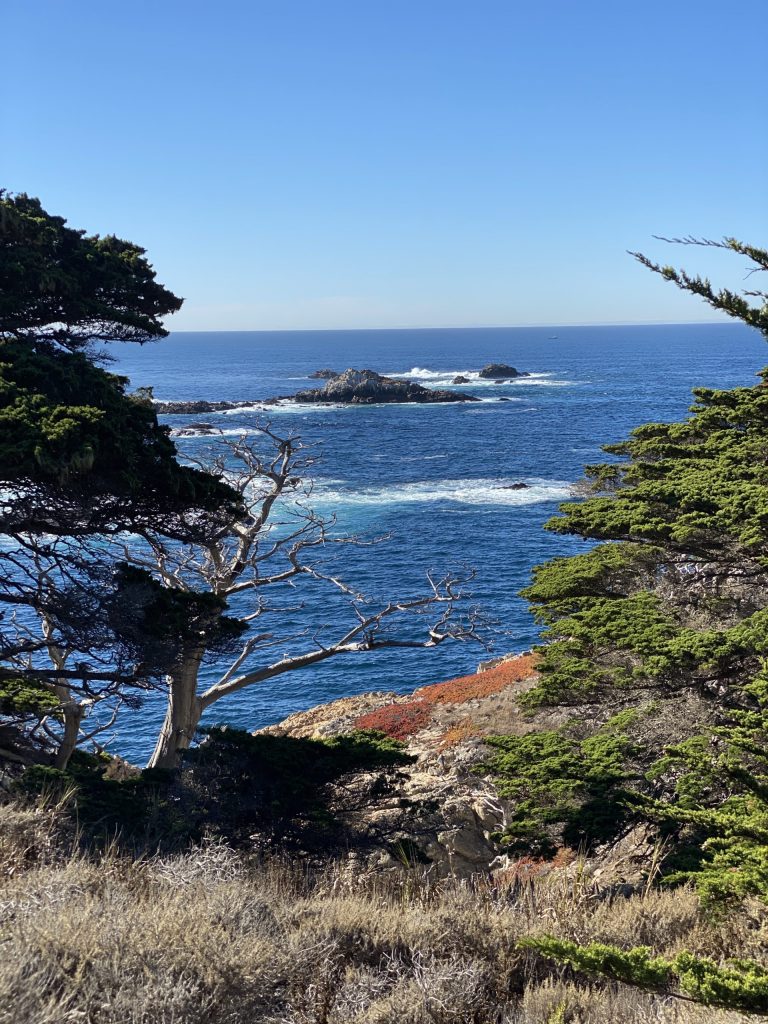 North Shore Trail
This trail is well worth the effort for hearty walkers with strong legs. Still, exposed to prevailing northwesterly winds and seas, this rugged headland of sheer-walled coves and changing plant communities offer surprises at every turn. Furthermore, note the dramatic cliffs of granodiorite, slowly carved through the ages by the pummeling of the relentless surf. Altogether, this California hike trail affords several views into several coves including Bluefish Cove – often with seals, otters, and egrets.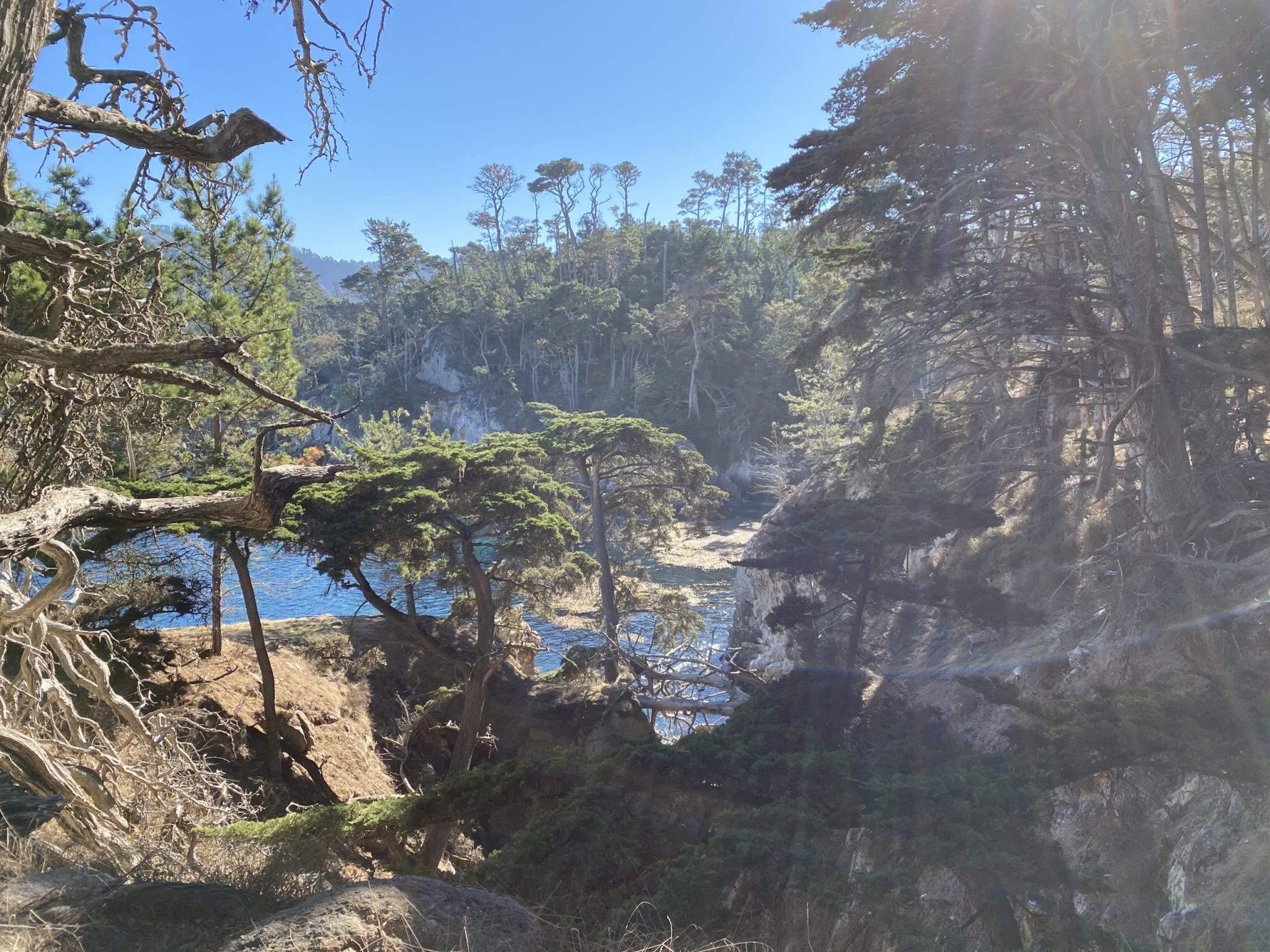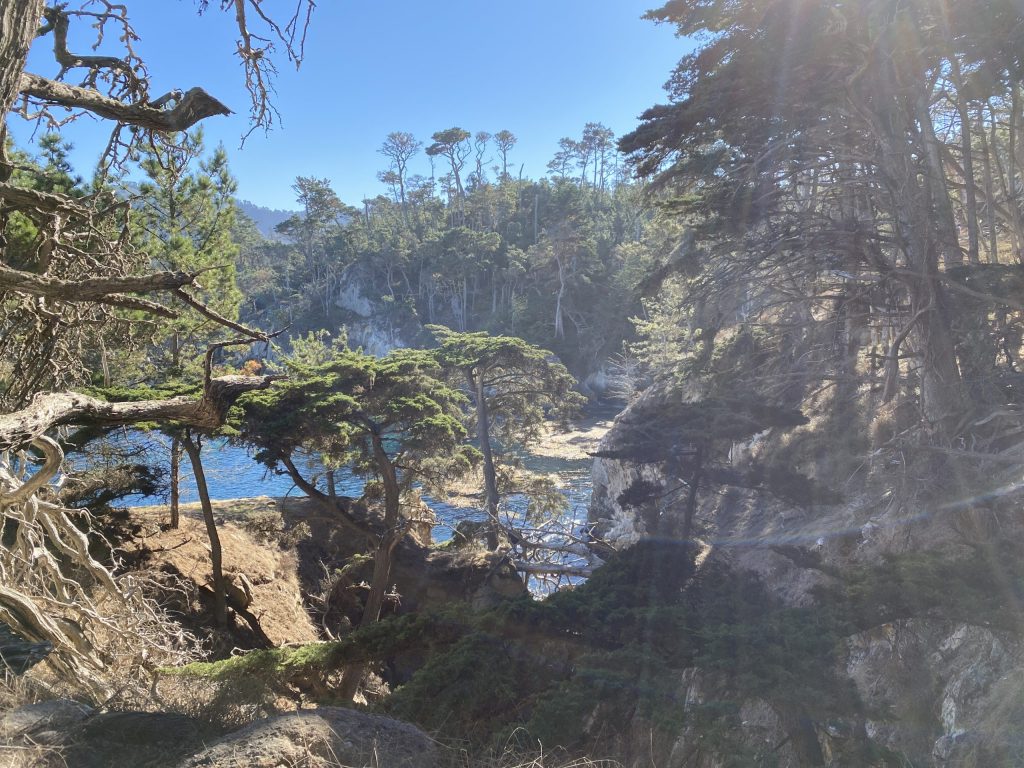 At the eastern end, Cannery Point offers good views across Carmel Bay and Whalers Cove. In spring and summer, one can see nesting western gulls, pigeon guillemots, and both Brandt's and pelagic cormorants on Guillemot Island. A side trail at about the midpoint of the trail is the best spot to watch these birds. Up the next rock staircase (quite long and uneven) you can go straight for a short distance out to a couple of very fine viewpoints. Then, the North Shore Trail turns left at the top of the stairs. So, soon you see a spectacular view from high above Whalers Cove.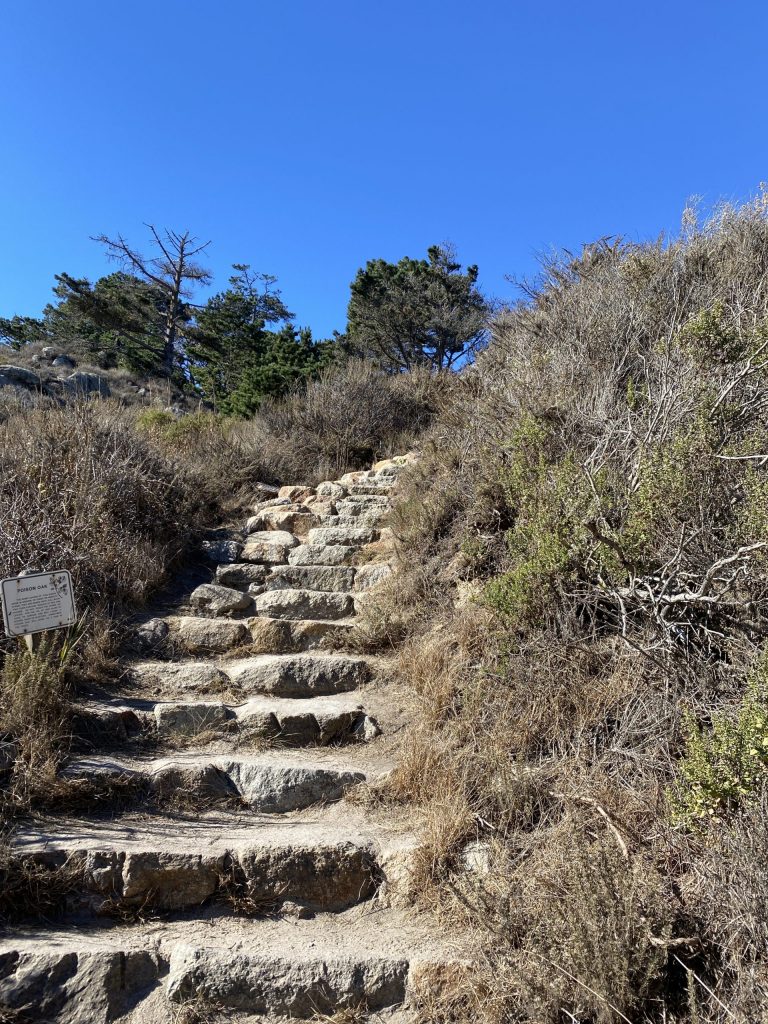 As a final point, the choice is yours in Point Lobos. You can walk little loops from each parking lot or park along the way 1 and hike the whole 8-mile loop. In any case, you won't be disappointed.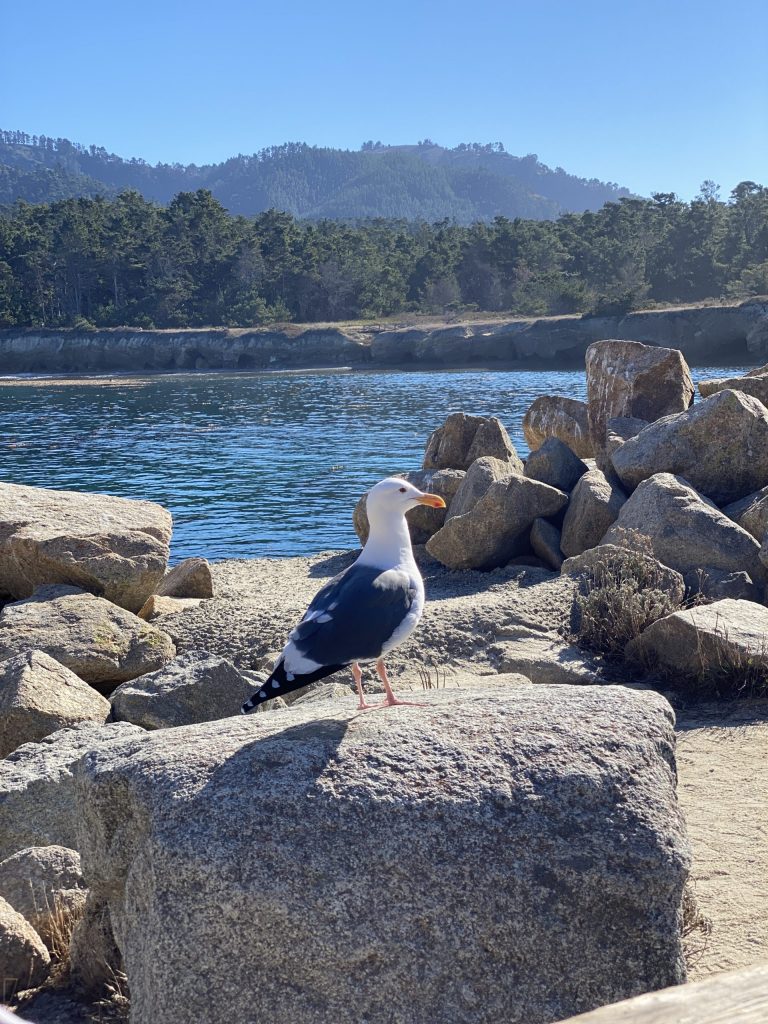 Looking for other Californian hikes? Discover our hike ideas